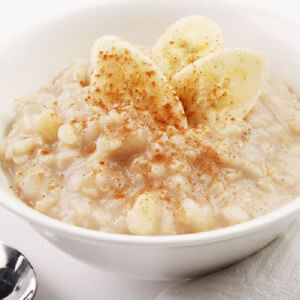 Prep Time: 10 min.
Cook Time: 45 min.
Yields: 8 servings
Description
Edit
Dairy-free rice pudding with bananas and rice milk!
Ingredients
Edit
1 cup brown basmati rice
2 cups water
1/2 teaspoon salt
3 cups plus 1 tablespoon gluten-free vanilla rice milk, divided (see Tip)
1/3 cup light brown sugar
1/2 teaspoon ground cinnamon, plus more for garnish
1 tablespoon cornstarch
4 ripe bananas, divided
1 teaspoon vanilla extract
Directions
Edit
1. Combine rice, water and salt in a medium saucepan and bring to a boil. Reduce heat to low, cover and cook until the liquid is fully absorbed, 45 to 50 minutes. 2. Stir in 3 cups rice milk, brown sugar and 1/2 teaspoon cinnamon and bring to a lively simmer. Cook, stirring occasionally, for 10 minutes. Stir cornstarch and the remaining 1 tablespoon rice milk in a small bowl until smooth; add to the pudding. Continue cooking, stirring often, until the mixture is the consistency of porridge, about 10 minutes. 3. Remove from the heat. 4. Mash 2 bananas in a small bowl. Stir the mashed bananas and vanilla into the pudding. Transfer to a large bowl, press plastic wrap directly onto the surface of the pudding and refrigerate until cold, at least 2 hours. 5. Just before serving, slice the remaining 2 bananas. Top each serving with a few slices of banana and sprinkle with cinnamon, if desired. Tip: Some brands of rice milk may contain gluten. Gluten-free brands include Pacific Natural Foods or 365 Organic.
Ad blocker interference detected!
Wikia is a free-to-use site that makes money from advertising. We have a modified experience for viewers using ad blockers

Wikia is not accessible if you've made further modifications. Remove the custom ad blocker rule(s) and the page will load as expected.