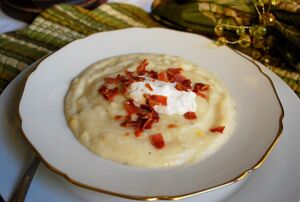 Description
Edit
Yields 6 servings.
Ingredients
Edit
Directions
Edit
In a large frying pan, saute the green onion in oil for one to two minutes, then add all the seasonings and saute one more minute.
Filling the blender twice, blend all the ingredients until fairly smooth, lovely green light green soup is created.
Simmer everything on medium heat for 15–25 minutes until the bite is off the onions and the flavors mingle.
Serve hot with bread, crackers, or other accompaniments.
Keeps 3–6 days refrigerated.
Ad blocker interference detected!
Wikia is a free-to-use site that makes money from advertising. We have a modified experience for viewers using ad blockers

Wikia is not accessible if you've made further modifications. Remove the custom ad blocker rule(s) and the page will load as expected.