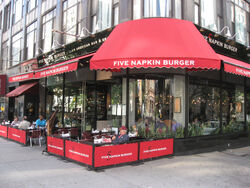 Five Napkin Burger has two locations in Manhattan, one is Astoria, and one in Boston. It is famous for its burgers, salads, and the "Josh Lucido"- a s'more milkshake made with the special chocolate ice cream they keep in the kitchen.
35-01 36th Street
@ 35th Ave
Astoria , NY 11106
105 Huntington Avenue
(Prudential Center)
Boston , MA 02199
630 9th Ave
@ 45th Street
New York , NY 10036
2315 Broadway
@ 84th Street
New York , NY 10024
Ad blocker interference detected!
Wikia is a free-to-use site that makes money from advertising. We have a modified experience for viewers using ad blockers

Wikia is not accessible if you've made further modifications. Remove the custom ad blocker rule(s) and the page will load as expected.