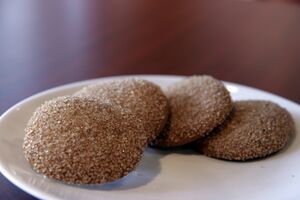 Prep Time: 15 minutes
Cook Time: 12 minutes
Yields: 3 dozen
Description
Edit
Although these gingersnaps are made without traditional all-purpose flour, one thing remains the same: they're delicious! And of course there's nothing like cookies and milk!
Ingredients
Edit
¼ cup margarine
½ cup sugar
2 tbsp molasses
1 egg
½ cup soy flour
¼ cup cornstarch
¼ cup potato starch flour
¼ tsp salt
1 tsp baking soda
¼ tsp ginger
½ tsp cinnamon
Directions
Edit
1. Preheat oven to 350 °F.
2. Sift dry ingredients together in a large mixing bowl.
3. In a separate bowl, cream margarine and sugar together thoroughly.
4. Beat in egg and molasses into cream and margarine mixture.
5. Add dry ingredients to liquids and mix well.
6. Use a teaspoon to scoop out smalls balls of dough. Place them onto greased cookie sheet and bake for 10–12 minutes.
7. Allow to cool 5 minutes before serving.
Ad blocker interference detected!
Wikia is a free-to-use site that makes money from advertising. We have a modified experience for viewers using ad blockers

Wikia is not accessible if you've made further modifications. Remove the custom ad blocker rule(s) and the page will load as expected.