==Ingredients==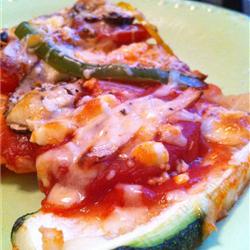 1 large zucchini, cut into 1/2-inch rounds
1 tablespoon olive oil
1/4 cup pizza sauce
1/2 cup chopped red onion
1/2 cup chopped roasted red pepper
1/2 cup chopped fresh mushrooms
1/4 cup crumbled goat cheese
2 ounces shredded mozzarella cheese
1 clove garlic, minced
1 teaspoon Italian seasoning

Directions
Edit
Preheat grill for medium heat and lightly oil the grate.
Brush one side of each zucchini round with olive oil; brush the opposite side with pizza sauce. Evenly divide red onion, roasted red pepper, mushrooms, goat cheese, mozzarella cheese, garlic, and Italian seasoning over each zucchini round.
Grill zucchini pizzas over preheated grill until zucchini is tender, about 10 minutes.
Ad blocker interference detected!
Wikia is a free-to-use site that makes money from advertising. We have a modified experience for viewers using ad blockers

Wikia is not accessible if you've made further modifications. Remove the custom ad blocker rule(s) and the page will load as expected.