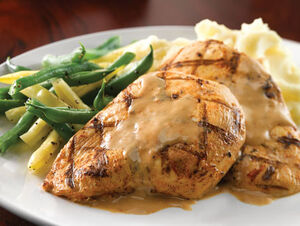 I didn't know that this was a gluten free recipe, but this was what I got in my Daily Gluten Free Today. It is very tasty and healthy. Read your labels carefully as always
Ingredients
Edit
Directions
Edit
Preheat gas grill.
Drizzle chicken with olive oil and season generously with salt and freshly ground black pepper.
Cook chicken over a medium flame for about 10 minutes.
Remove chicken from grill and sprinkle with Italian parsley and balsamic vinegar.
Ad blocker interference detected!
Wikia is a free-to-use site that makes money from advertising. We have a modified experience for viewers using ad blockers

Wikia is not accessible if you've made further modifications. Remove the custom ad blocker rule(s) and the page will load as expected.