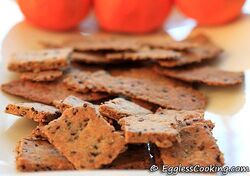 Ingredients
Edit
Directions
Edit
Mix gently and roll very thin.
Sprinkle additional bran on the board before rolling out if desired.
Cut with a pizza cutter into 1½-inch crackers.
Lift with a pancake turner and put on cookie sheet.
Prick and bake at 375-degrees until toasty brown, about 12 minutes.
Turn off oven and put crackers back in the oven and let them dry out slowly (in a gas oven with a pilot light, check for crispiness after about 30 minutes)
Store in a tight container or freeze.
Ad blocker interference detected!
Wikia is a free-to-use site that makes money from advertising. We have a modified experience for viewers using ad blockers

Wikia is not accessible if you've made further modifications. Remove the custom ad blocker rule(s) and the page will load as expected.