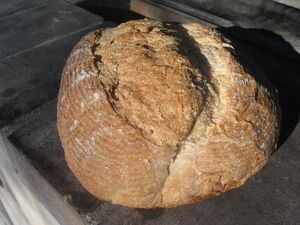 Prep Time: 15 minutes
Cook Time: 25 minutes
Yields: 6-8 servings
Description
Edit
I used to make this with regular flour, but found that the bread comes out much better with rice flour. Try it!
Ingredients
Edit
1 large cinnamon stick
1/2 cup butter
3/4 cup vegetable shortening
1 cup granulated sugar
4 large eggs
1 pound rice flour
1 1/2 teaspoons baking powder
2 cups finely grated aged cotija cheese
Directions
Edit
1. Grind the cinnamon in a coffee grinder (or blender).
2. Butter a 9x13 inch glass baking dish.
3. In the bowl of an electric mixer, cream the butter and shortening. Add sugar and whip until light and fluffy. Beat in 1 egg at a time.
4. Sift the rice flour and baking powder into the mixture a little at a time; stir in the cheese.
5. Add batter to the buttered baking dish and cook for 20–25 minutes in a 425 F degree oven. Bread should be golden brown on the outside.
Ad blocker interference detected!
Wikia is a free-to-use site that makes money from advertising. We have a modified experience for viewers using ad blockers

Wikia is not accessible if you've made further modifications. Remove the custom ad blocker rule(s) and the page will load as expected.