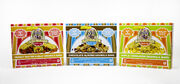 Anyone who came of age in the 70s, 80s or 90s knows the cultural reach and impact of granola bars –at least on one's brown bag school lunch. There were ubiquitous, consistent and expected –a prepackaged apology for the inevitably squished sandwich that would only see a few token bites before being tossed. However, for those suffering from gluten-intolerance issues such as Celiac Disease, granola bars were far from a lunchtime salvation –they non-existent. Gluten-free granola bars simply didn't exist, at least not in wide distribution, until now.
As their PR flak giddily crowed in a recent release, Bakery On Main addresses this grievous oversight with its latest foray into the gluten-free market, Soft & Chewy Gluten Free Granola Bars.
Bakery On Main Soft & Chewy Gluten Free Granola Bars are made with GFCO certified gluten-free oats, amaranth and quinoa for a great source of whole grains. They are also made with flax and chia seeds, which are great sources for Omega 3 and Omega 6 essential fatty acids. As with all Bakery On Main products, the granola bars contain no GMOs, no dairy, no casein, no wheat, no trans fat and no cholesterol. No nothin' –just gluten-free granola goodness. The company's products are also GFCO certified gluten free, and Kosher OU Parve, which, of course, takes them a notch beyond the other contenders in this category.
"Since the beginning, it has been my mission to improve the quality of life for people with special dietary needs," said founder Michael Smulders. "At Bakery on Main we specialize in making products that are not only good for you, but taste good too."
The line is available in peanut butter and jelly, chocolate almond and apple cinnamon flavors in a 6 oz., 5-count carton. Expect to see the product on store shelves in independent natural foods stores as well as major supermarket chains nationwide beginning next week.
Ad blocker interference detected!
Wikia is a free-to-use site that makes money from advertising. We have a modified experience for viewers using ad blockers

Wikia is not accessible if you've made further modifications. Remove the custom ad blocker rule(s) and the page will load as expected.